Wattamolla is one of the most popular swimming holes in the Sydney Region and Royal National Park, especially for families.
It features a beautiful waterfall, a child-friendly lagoon and river to swim in as well as a beach with waves and a variety of incredible coastal walks along the cliffs to the north and the south.
It also features a popular rock jump. However, it's technically illegal to jump off the rock and there have been deaths over the years so do so at your own risk.
Wattamolla is fairly easy to get to by car and has a large parking lot that is open from 7am – 8:30pm daily.
However, if you don't have access to a car you can still reach Wattamolla using public transport and hiking. The route will involve a train, ferry and a sizeable hike through Bundeena and past the beautiful Wedding Cake Rock.
Getting to Wattamolla via public transport is possible but it's no cake walk (pun intended).
Getting To WattaMolla By Public Transport
To get to Wattamolla by public transport:
Catch the train to Cronulla Station
Catch the ferry from Cronulla to Bundeena. A ferry leaves on the half hour every hour from:

5:30am-6:30pm Monday-Friday (no ferry at 12:30pm)
8:30am-6:30pm on Saturdays, Sundays and Public holidays in Summer
8:30am-5:30pm on Saturdays, Sundays and Public holidays in Winter

Walk from Bundeena to Wattamolla Beach via Marley Beach (11-18km)
Return back the way you came noting that ferries leave from Bundeena to Cronulla on the hour every hour no ferry at 1pm.
NOTE: The last ferry to leave Bundeena leaves at 7pm all days during the Summer season (Sep-May) and the last ferry leaves Bundeena at 5pm on Saturdays, Sundays and Public Holidays in Winter.
There used to be a bus that ran from Sutherland or Waterfall Station to Bundeena as well as directly to Wattamolla Beach as well as Garie Beach and a variety of other spots in the Royal Nation Park. As of time of writing this bus service is no longer operational. But hopefully it gets back up and running soon. Check for yourself if it's running using the link below:
Learn more about getting to the Royal National Park by bus
Before You Go
While there are toilet and drinking facilities at Cronulla, Bundeena and Wattamolla I highly advise you take a large amount of water on this trip.
The hike from Bundeena to Wattamolla is sizeable and if it's a hot day you'll go through a lot of water.
There are no places to buy food at Wattamolla itself so make sure you take your own food.
It's also advised that you bring hats and a good amount of sunscreen. The path is exposed the entire way so you will have significant sun exposure on a sunny day.
I've personally done this hike in just running shoes and I don't feel that hiking shoes are needed due to the easy terrain. But it is a long walk with some solid elevation so this isn't for the unfit or faint of heart.
Still I think it's 100% worth it.
Train To Cronulla
Cronulla train station is on the T4 eastern suburbs and Illawarra line and trains to Cronulla leave Sydney Central station every 15-30 minutes depending on the time of day.
You can also catch the train directly to Cronulla from
Bondi Junction
Edgecliff Station
Kings Cross Station
Martin Place
Town Hall Station
Redfern Station
Alternatively, most trains go to either Central Station or Town Hall Station where you can transfer to a Cronulla train.
Trains from Central to Cronulla take approximately 40-55 minutes.
Ferry To Bundeena
Once at Cronulla station it's only a short walk to Cronulla Wharf where you catch the Ferry to Bundeena.
The ferry ride takes approximately 20-30 minutes and is quite pleasant. You can fit inside the ferry or outside the ferry.
The "Curranulla" ferry is single level and is the oldest commuter ferry in Australia working to a regular timetable. It was commission in 1939 with an engine upgrade in 1986.
See Cronulla Wharf on Google Maps
The Ferry runs from Cronulla to Bundeena on the half hour every hour and times depend on the day and season.
A ferry leaves on the half hour every hour from:
5:30am-6:30pm Monday-Friday all year round (no ferry at 12:30pm)
8:30am-6:30pm on Saturdays, Sundays and Public holidays in Summer
8:30am-5:30pm on Saturdays, Sundays and Public holidays in Winter
Click here to see the most up to date Cronulla-Bundeena Ferry times
You usually pay for the ferry when you get on or whilst you are on the ferry (someone will come around to charge you). Eftpos and credit card facilities are available (with small surcharges).
Ferry cost changes annually but below are the prices as of July 2023:
ADULTS: $8.30
CHILDREN: $4.15 4-15 yrs
CONCESSION: (Pensioners / Seniors / Unemployed / Student) (Concession passes must be shown) $4.15
FAMILY: (2 adults, 2 children) $22.00
WEEKLY: $55.00
10 RIDE: $70.00 (available on the ferry)
FREIGHT: (Surfboards, pushbikes, etc) $4.15
See the most up to date Cronulla-Bundeen ferry prices
NOTE: The ferry is limited to 100 passengers. During winter and weekdays you shouldn't have any issues, but on summer weekends and public holidays it can get busy so make sure to get to the wharf a bit ahead of time.
Coastal Walk To Wattamolla (via Wedding Cake Rock)
Once you reach Bundeena you will then need to walk/hike the rest of the way to Wattamolla Beach.
There are 2 paths you can take with the most popular path being the Royal National Park Coastal Walk. There is also a slightly more inland path which shaves off about 15-20 minutes off the journey but bipasses wedding cake rock as isn't as scenic.
Length: 9-10km (each way) / 18-20km (return)
Time: Approximately 2.5 (hours each way) / 5 hours (return)
Difficulty: Challenging due to length and elevation, but very good footing across flat rocks or raised paths as well as sandy beaches. Not accessible friendly.
The walk from Bundeena to Wattamolla is a really pleasant walk that follows the coastline and cliff face with amazing views over the coast almost the entire way.
Bundeena Wharf To Coastal Track Start
To begin you'll walk through the suburbs of Bundeena from the wharf to the beginning of the coastal track.
At the start of the coast track (just off Beachcomber Ave) there are free public toilets. I can't remember if they had water refill stations here but I am assuming they don't and it's run off bore water. But I can't be sure.
Coastal Track To Wedding Cake Rock
From there you'll walk to the coastal track towards wedding cake rock. The path is popular and clearly marked with raised paths for much of the journey and no real rock scrambles required.
Wedding Cake Rock
Wedding Cake Rock is a popular feature due it it's white colour and the fact that it looks like a slice of wedding cake.
Many instagram photos have been taken on this rock.
However, now a large and looming fence has been installed to stop people going out onto the rock.
It's considered EXTREMELY DANGEROUS to go onto the rock and the signs state that the rock shelf could fall at any time with no notice.
It's actually really hard to see the rock from the fence installations and expect to be disappointed by this feature. I call it "Wedding Cake Fence" now.
People still climb the fence and go onto the rock. But it's not technically allowed and if you do so then you do it at risk of your own life (which I obviously recommend against).
It's actually hard to get a good photo of the rock now anyway so I don't think this is worth the risk at all.
Marley Beach & Little Marley Beach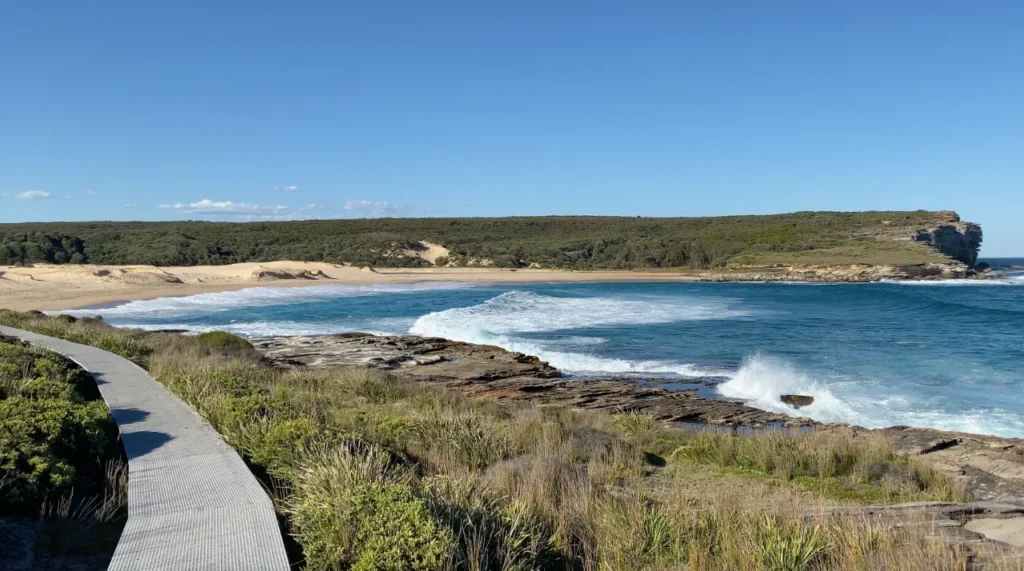 My favourite part of this hike is Marley Beach and Little Marley Beach. It's also the most challenging part of the hike.
The descent down into Marley Beach is big. You don't have to rock scramble much but coming back up on your way home can be daunting.
You've then got to walk across the soft sand of Marley Beach and after that Little Marley Beach which isn't hard but just difficult compared to a hard path.
To Wattamolla Beach
After Little Marley Beach the path continues onto Wattamolla Beach with a fairly large ascent after Little Marley Beach and then another descent into Wattamolla.
Again, it's a good path it can just be quite tiring if you're unfit or are coming back after a long day swimming.
Once you reach Wattamolla you can enjoy the day swimming in the lagoon, going under the waterfall or even going to the beach.
There are toilets at Wattamolla, but again I cannot remember if there was water refill stations. I'm going to assume there isn't so remember to bring a lot of water.
Returning Home
The return journey home is exactly the same as the journey there with the only difference being that the ferries from Bundeena to Cronulla leave on the hour rather than on the half hour.
Be sure to make it back to the wharf in time for the final ferry otherwise you'll end up stranded in Bundeena with no real way out other than a very expensive Uber drive from Bundeena to Sutherland where you can catch the train home.